This post brought to you by Carton Smart. All opinions are 100% mine.
During winter I crave warm, hearty meals. I try to avoid really heavy foods though that will add on a winter layer I will have to shed once warmer weather arrives. That's why many of my favorite winter recipes are soups and stews. My all-time favorite soup is Tex-Mex Chicken Soup. I use a recipe that I adapted from one I found at Budget Bytes that includes a surprising ingredient, pumpkin puree.
I recently discovered Pacific Foods products and I decided to try a couple of them in this recipe. I had received their holiday starter kit, which came with pumpkin puree, chicken stock, and jellied cranberry sauce.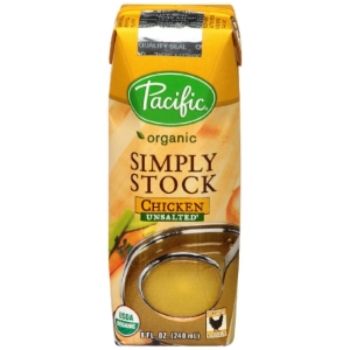 I love that these are natural, organic products that I can use to make healthy meals for my family. How often do you see packaged food with just one ingredient? Well, check out what's in this pumpkin puree.
Yep, just organic pumpkin. And here's a copy of the label on the chicken stock.
That's right, just the same ingredients you would use if you made chicken stock at home. You caught the "organic" and "product of USA" too, right?
The best part is that not only can you feel good about what's IN the containers, you can feel good about the containers themselves. I love this Tetra Pak packaging!
From a completely selfish perspective, I like that these containers are box-shaped rather than round which make them much easier to stack in the pantry. With six hungry people to feed in my family, we keep a lot of food on hand in the pantry and cans waste so much space! And for those days when half my family is elsewhere for dinner (e.g. hubby works late, son is at a wrestling tournament and daughter is at gymnastics), I can easily save the rest for later since all of their cartons are resealable.
From a socially conscious perspective, I am glad that Tetra Pak cartons:
·         Are made of 70% paper from selectively harvested, regrown trees
·         Use 1/3 of the packaging compared to cans
·         Preserves the nutrients of food without using preservatives
·         Are recycleable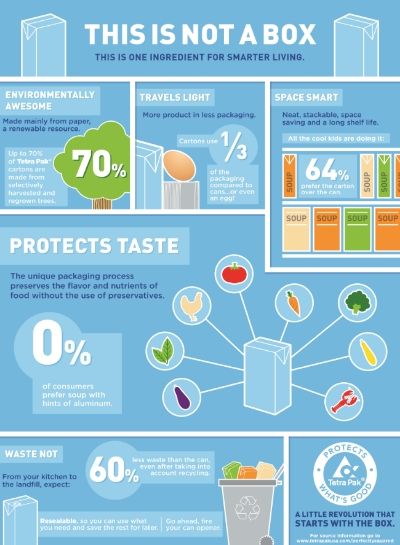 Tex-Mex Chicken Soup
Ingredients
1 T olive oil
1 medium yellow onion, diced
2 cloves garlic, minced
5 c chicken stock
1 lb chicken breasts
1 (16 oz.) carton pumpkin puree
1 tomato, diced
1 (15 oz.) can black beans
1/2 c frozen corn
1-2 chipotle peppers in adobo sauce
1 T cumin
1 tsp chili powder
fresh cilantro sprigs, for garnish (optional)
Directions
Heat olive oil in large stock pot. Add onions and garlic and saute over medium heat until the onions are translucent.
Add the chicken breasts to the pot and pour in chicken stock. Cover. Turn heat to high and bring to a boil. Then, reduce heat to low and simmer for 30 minutes.
Remove chicken from pot and shred. Return the shredded chicken to the pot. Add the pumpkin puree and diced tomatoes and mix well.
Mince one or two chipotle peppers (depending on whether you want mild or medium spice) and add to the soup. Also add one to two teaspoons of the adobo sauce.
Rinse the black beans and add them to the soup. Add the corn. Add the cumin and chili powder.
Simmer for 10 minutes, then serve.
Garnish with cilantro if desired.
Makes 6 servings.
I hope you enjoy this soup as much as my family and I do.
Become Carton Smart by following along with Carton Smart's social pages. You can Tweet @CartonSmart and Follow #CartonSmart on Pinterest.
Are you #CartonSmart? Share your favorite recipes that use carton ingredients or your smartest tips for entertaining with delicious food but little waste. I'd love to hear your ideas!
I'm a work at home mom of five children. My passion is helping busy moms have happy, healthy homes and feel great about themselves.
Latest posts by Corinne Schmitt (see all)