This post was sponsored by Lowe's as part of an Influencer Activation for Influence Central and all opinions expressed in my post are my own.
I've put together some super quick and easy fall mantel decorating ideas to help you transform your home for fall in just a few simple steps. I'm NOT the type of person who loves to spend hours carefully crafting decor, even though I love the look of seasonal decor.
I love walking into anywhere (someone's home, a store, an event) that's decorated for the current season. Decorations add so much warmth and festivity to any location.
Unfortunately, when it comes to decorating my own home, I tend to be a minimalist. Decorating takes TIME. Even worse, it takes EFFORT.
Since I'm perpetually short on time and I'm only productive out of necessity and thanks to coffee, decorating isn't in my top 10 activities. However, last week I was sitting in my library (yes, we have a library – perhaps you've noticed all my posts about books?) helping my daughter with her homework and realized our plain, unadorned fireplace would be easy to transform.
Those white bricks are pretty much the perfect canvas waiting for some artistic inspiration, right? Right away, I pictured mums on either side of the fireplace opening. So, I headed off to Lowe's to get some.
Little did I know I was going to find so many other seasonal decorations. By the time I made it through the store to the garden section for the mums I'd come for, I had an entire cart full of fall mantel decorations.
My Fall Mantel
Here's what my mantel and fireplace looked like 15 minutes after I got home from Lowe's: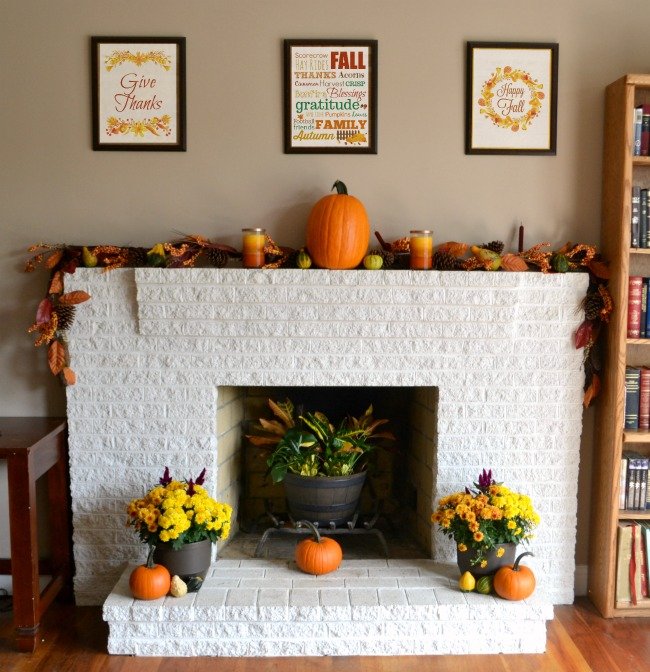 BTW, no time to go to Lowe's to shop? You can get everything you need to recreate the look above by hovering over items in the image. And I created the fall printables in the frames above the mantel, which you can snag for free!
Fall Mantel Decorating Tips
Whether you want to copy my exact look or not, here are some tips to make your fall mantel decorating super easy.
Potted Flowers
As I already mentioned, my original idea was to just pick up a couple of potted mums. Potted flowers are always my go-to for effortless decorating.
All you have to do is find flowers that have the colors you want to highlight for the season. And if you think the pot they come in is too plain, you can use the next tip.
Pumpkins and Gourds
Pumpkins and gourds are a fall staple and even better, they're inexpensive and come in so many different sizes and colors. Strewn around your plain pot, you can create a decorative focal point in a matter of seconds!
You can also place pumpkins and gourds along the top of your mantle to add color and variety. They work well with the next tip.
Garland
When you have a long space to fill like a mantel, a garland is such an easy way to easily decorate it. I wanted to have some hanging over each side so I actually used two.
Candles
If you really want to set the mood for fall, engage your sense of smell with candles. Candles do double duty since they help your home smell like fall while they serve as a pretty adornment for your fall mantel too.
I nestled mine into the garland between the pumpkin and some of the gourds I'd placed randomly across the mantel.
Vibrant Plants
You may have noticed in my before picture that my ONLY mantel adornment was a plant. Plants are a great way to naturally purify the air in your home so I like to have them throughout my home.
When I was at Lowe's I noticed a plant with colorful leaves (it was a croton petra) and decided on a whim to incorporate it into my fireplace decor. Repotted in a large planter with some other plants, it became a great focal point within the fireplace and I also managed to add to our houseplant collection.
Framed Printables
Did you notice that the pictures above the mantel changed in the makeover? Aside from potted flowers, this is my favorite decorating hack.
If you have access to the internet, a printer and some picture frames, you can easily decorate for any season. Just find printables with the theme you want, then print and frame them! Feel free to grab my fall printables if you like what you see above my mantel.
Wreaths
I did not use a wreath as part of my fall mantel decor, but I do use them in other areas of the house for seasonal decorating. I almost bought an autumn wreath at Lowe's but realized I would have to move my picture frames and opted against it.
Of course, you can make your own wreaths too. I'm not crafty and even I can whip out a fleece wreath in record time.
If you use these tips, you can easily create a colorful and welcoming fall mantel in a matter of minutes. Since our library is directly inside the front door, everyone who has come in has commented on how festive it is. And yes, I just soak up the compliments and don't tell them how easy it was!
Copy My Fall Mantel
If you don't want to reinvent the wheel, feel free to copy my fall mantel. The image below is shoppable. Just hover over each item to see more details and order them online if you want.