Last Updated on March 18, 2022 by Corinne Schmitt
Between kids, parents, teachers, friends, and co-workers, you have dozens of gifts to buy this year and the thought of holiday shopping is overwhelming you. That was me last year which is why this year I'm brainstorming for everyone on my list and sharing those lists with you!
With the holidays approaching, you've likely got a full social calendar. Sure, you could show up with the token bottle of wine, but if you want to make a lasting impression AND convey sincere gratitude, you might want to opt for something less obvious. Today's gift guide is designed to help you choose the perfect hostess gift.
Best Hostess Gifts
A standard appetizer at most parties is some sort of cheese platter. That's why this cheese board with cheese tools hidden in the built-in storage makes a great hostess gift.
Everyone uses salt and pepper so you know this gift won't go to waste. The intriguing design of the grinders, combined with the gourmet Himalayan sea salt and peppercorns ensures this set will be put on display, a daily reminder of your thoughtfulness.


One thing I can never have enough of, are wine glasses. They always seem to get broken over time. Since stemless glasses are very popular now, a clever set is sure to be a hit with hostesses with a sense of humor.
It makes things hard on your hostess when she has to clean twice as many wine glasses because guests set their drinks down and then can't remember which is theirs, thus getting a new glass. Make life easier for her with wine glass markers or charms.
Depending on the host's personality, there are a variety to choose from. Here are some of my favorite options.


Gourmet chocolates are always a welcome hostess gift because even if the host isn't a chocolate lover, they are a wonderful treat to put out for guests. Godiva is one of the best-known gourmet chocolate makers and for good reason–their chocolates are delicious! This gift box is the perfect sampler to gift to your favorite host or hostess.


Help your hostess protect their beautiful furniture by bringing a set of monogrammed coasters. Like wine glasses, no one ever seems to have enough coasters and the monogram lets them know you didn't just pull something out of your gift closet, but instead bought these specially for them.
This personalized trivet is a gift that will definitely become a treasured piece. It will be used often and thanks to the durable steel and high-temp powder coated finish, it will stand the test of time.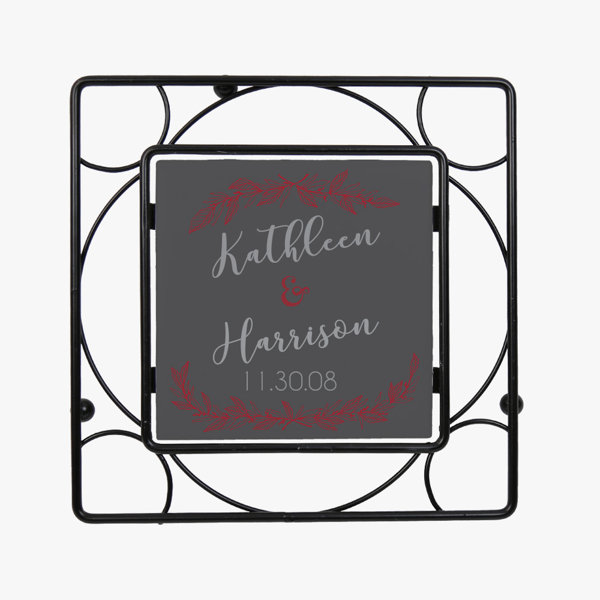 Cedar planks are great for hosts and hostesses who love to grill. These planks are 100% organic and come in a pack of 30 so you can use one pack to make gifts for all of the party hosts you'll see this holiday season. Break down into groups of 5 and tie together with a pretty ribbon or cord OR use each one as an individual gift and pair it with some grilling spices.


Help your hosts' collect memories of their guests with this Couch Guest Book. In the book, guests can share their thoughts, feedback on the visit (via the "report card"), and rate their own couch potato-ness, among other things.


For the hostess, having a presentable guest bathroom is a priority. This beautiful monogram gift set will help her keep the guest bathroom visitor-ready for her next party. The set comes with 3 monogrammed soaps (100% plant-based and triple-milled so it is safe for sensitive skin) and 12 monogrammed linen-blend hand towels.
Since everyone else will be bringing wine for the hostess, you can be helpful by providing a way to display those less creative gifts. This countertop wine holder always attracts a lot of attention since it seems almost dangerous and yet, is entirely stable.
Last-Minute Hostess Gift Ideas
I a go-to list of appropriate hostess gift items for those times I am caught off guard and don't have time to shop a few weeks in advance. If you find yourself in that situation, here are some last-minute hostess gift ideas that will save you from the obvious bottle of wine.
Potted Herbs – My personal favorite is a rosemary tree, but basil plants are also really popular.
Small Potted Plants or Flowers – At your local hardware store (e.g. Lowe's or Home Depot), you can find a variety of small plants or flowers, often in decorative containers. Orchids are lovely and one of my favorites and succulents are a safe bet if you aren't sure if the hostess has a green thumb or not.
Homemade Quick Breads – Banana bread, zucchini bread, poppy seed bread, etc.
Gourmet Gift Basket – Stop by your local overstock department store (e.g. TJMaxx, Marshall's, or Ross) and pick up an inexpensive basket and fill with gourmet cooking oils, seasonings, snacks and condiments. Sometimes they have pretty bread dipping sets and those make great hostess gifts.
Spa Basket – Like the gourmet gift basket but instead of food items, pick up lotion and hand soap, bubble bath or bath salts, a scented candle, an eye mask, and anything else that will help the hostess relax after the party.