Last Updated on March 18, 2022 by Corinne Schmitt
When it comes to holiday shopping, the people I have the hardest time shopping for are the men on my list. First of all, men don't like to admit they need anything so it's really hard to get them to give up a wish list. Second, unlike chatty females, most men are not an open book so it takes a lot of guesswork to figure out what they might want or can use.
I spent some time talking to (okay, badgering) some of the men I know to find out what gifts they would actually want to receive. That's how I came up with this list of the best gifts for men.
Best Gifts for Men
Not all men drink hard liquor, but for those who do, these chillin' cubes are the best (and most stylish) way to keep their drink at the perfect temperature.

For men who prefer beer or soda, these stainless steel chill sticks will keep their beverages icy cold, even on a hot summer day.

While we're hanging out in men's closets, let's take a look at their shoe rack. If your husband/son/dad/brother happens to have a nice pair of shoes, is he taking good care of them?
A good pair of leather shoes should have a cedar shoe tree insert to help it hold its shape and fend off odors. So yeah, it's kind of a gift for you too!


If you really want to spoil your favorite guy, you might opt instead for a Bespoke Post subscription. Each month they send what they call a "Box of Awesome." The goal is to help each man be better in a different way each month so one month it might include items to help him cook better and the next month it will include grooming supplies.
Another great "man" gift that comes pre-packaged in an impressive box is this flask and cigar set available on Amazon. It comes with man essentials like a flask, funnel, shot glass, cigar cutter, and dual cigar tube.


Has it occurred to you that a lot of men stop maturing at age 12? There's a reason dads are usually the fun parent.
They still like all the same things the kids do. That's why they still like toys and games. This magnetic dart board and bullseye set is perfect to hang on the back of the office or closet door so he can take a play break whenever he needs one.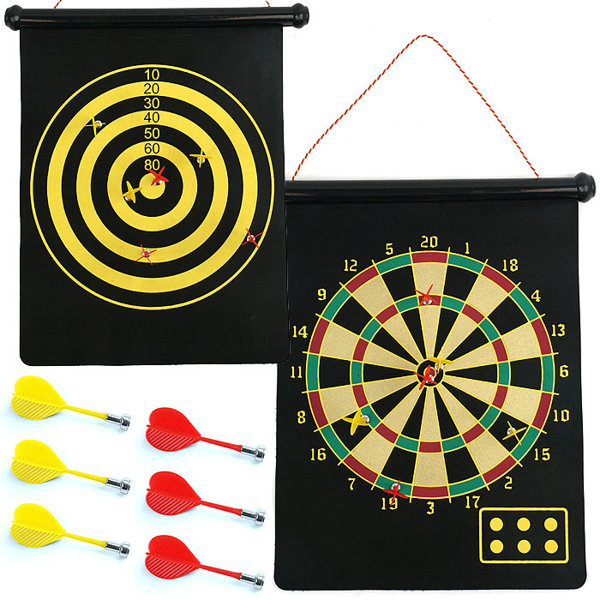 Of course, some men are the opposite and instead of being immature and playful, they are serious and pensive. Those are the guys that will warn you about how easily people can steal your identity and drain your bank accounts. For men with this mentality, these RFID blocking cards are a necessity and will make you a hero in their eyes.


Both serious and playful men will appreciate a laser measurer. Serious guys will find practical uses and playful guys will measure ridiculous things just for the fun of it.


Another piece of equipment every man should have, and thus, will appreciate receiving, is a multitool. A multitool is essentially the grown-up swiss army knife.


This final suggestion is a bit of a splurge but is a gift that almost any man will love. Despite the fact that once he has it, he will probably only use it a few times in his lifetime, every man secretly wants a generator.
I think it has something to do with a primal instinct to protect his family. Don't wait until it's hurricane season and all the stores are sold out or are selling them for double the price.
I hope you found some gift ideas to make your holiday shopping a little easier. You can always find all of the current guides on my Gift Guides page.