The holidays are coming quickly and my to-do list is getting longer each day. With friends and family scattered all over the country, I have to get an early start on holiday correspondence and shopping or I run out of time. This year, as I'm putting my holiday shopping lists together, I'm sharing my ideas with you. Each day this month I am posting a new gift guide to help you come up with ideas for everyone on your gift list. You can even shop right here via the links in the gift guides if you don't want to fight the crowds at the mall. Today I'm sharing the best gifts for sports fanatics. If you've missed any my other gift guides, you can find them all by clicking on the image below.
Best Gifts for Sports Fanatics
Game day usually includes popping open several beers. Make it easier for sports fans to open beer bottles and to keep the caps as a memento with this handy bottle cap opener and caddy.
Shop Now
Once they have the bottle open, make sure their beer stays cold with bottle jerseys.
Shop Now
As long as the beverages are displaying team spirit, the snacks should get in on the game too! This snack helmet is the perfect way to serve up game day snacks.
Shop Now
Avid sports fans love to watch the game in person. Even the most die-hard fan gets uncomfortable sitting on the cold, hard bleachers though. This stadium seat will ensure their comfort for the entire game. I chose this one to recommend after reading the positive and negative reviews of SEVERAL stadium seats.
Shop Now
This reserved parking sign is a fun (and inexpensive) way to display your team spirit either in your driveway or on the wall behind the couch in the room where you watch the game. This is a gift any sports fan will get a kick out of.
Shop Now
If you really want to spoil your favorite sports fan, this NFL fan favorite recliner is the way to do it. What sports fan doesn't want their own deluxe viewing spot?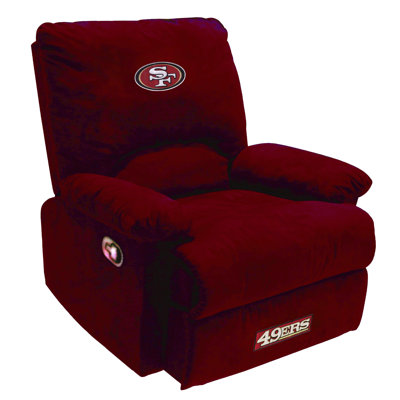 Shop Now
Most sports fans already have jerseys, caps, and other spirit wear to show their support for their team. However, avid sports fans can never have enough because they are happy to show off their team spirit every chance they get. My favorite one-stop shop for fan apparel is Fanatics. They have everything you can think of for almost any sport and hundreds of teams.
Shop Now
Even if your favorite sports lover doesn't want a closet full of team apparel, he will be delighted if the shirt you're giving was worn by one of his favorite athletes. SportsMemorabilia.com has TONS of game used apparel and equipment for the NFL, NBA, NHL, MLB, and college teams.
Shop Now
Another thing all sports fans love is equipment signed by their favorite athletes. You can find a wide selection of autographed sports memorabilia at Press Pass Collectibles.
Shop Now
 Once you've purchased a collectible, don't forget to buy a display case to keep it in so that your sports fanatic can enjoy it for years to come.
Shop Now
Autographed posters are great for decorating the room where your favorite sports fan watches the games. Smaller autographed photos are perfect for displaying on a desk or as part of a larger collection on a wall.
A gift that will blow your favorite sports fanatic's mind is available through Steiner Sports. You can send in an item to be signed by an athlete at a private event. So, your husband's favorite baseball jersey can be signed by Derek Jeter! Or, your daughter's soccer ball can be signed by Christie Rampone! Check the website for upcoming private signings.
Shop Now
Hopefully this has given you some gift ideas for the sports fans on your shopping list. Don't forget to check back throughout the month. I'm sharing a new gift guide every day! Bookmark my gift guides page so you can find all of them in one place.
I'm a work at home mom of five children. My passion is helping busy moms have happy, healthy homes and feel great about themselves.
Latest posts by Corinne Schmitt (see all)