This post contains affiliate links which means AT NO ADDITIONAL COST TO YOU, I will make money if you make a purchase after clicking on one of these links.
My best friend makes fun of me because I cannot walk past a cardigan in a store when we shop together. I love the layered look and cardigans are an essential piece of my wardrobe. That's why I was very excited when I saw the Style Steals from Cents of Style for today. If you love layers, here's your chance to stock up on some great looks for Fall. Just use code FALLTOPS to get the prices shown below. Hurry though, this deal is only available for 10/26/15!
Tips For Styling Fall Tops
Classic looks are always in style. Sometimes, though, it's nice to try a little twist on an old favorite. Change it up a bit. Here are three great and affordable updates for classic tops.
Switch your cardigan for a duster!
Cardigans are one of those items we can never seem to have enough of. They're a layering staple after all! There's always a need! But that said, it's important to note that not all cardigans are the same. If day after day you reach for the same classic shape cardigan, perhaps it's time you go long. The extra length of a duster cardigan makes them fun and versatile, while also adding a little bit of drama to even your most casual looks. Bonus: the extra length also draws the eye vertically, which how many times have we heard that's key to looking long and lean?!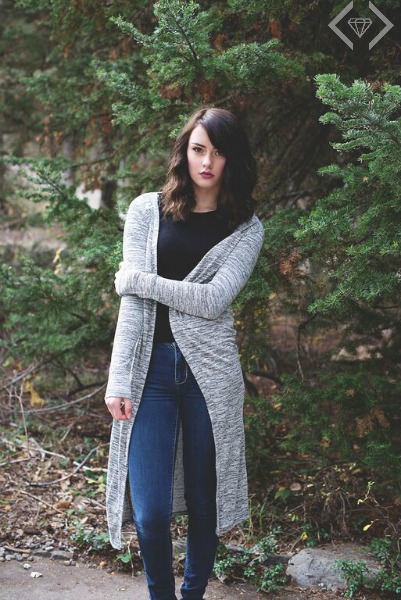 Estelle heathered duster cardigan – steal the style for just $17.95
Add accents to a basic sweater!
"Luxury is in each detail." — Hubert De Givenchy
How often do we hear a similar sentiment? It's all in the details. The small things add up. It's the little things that matter most. All. The. Time. Because Mr. Givenchy is right–those small details are what make things/people/places in this life unique/different/special. Which is one of the reasons we keep swooning over this sierra crewneck sweater with elbow patches. The patches are unexpected and add just a little interest to set it (and you!) Apart from the crowd.
Sierra crewneck sweater with elbow patches – steal the style for just $17.95
Go longer and layer with tunics!
One reason to love tunics? Leggings. Since we all know leggings are every girl's current bestie (sorry diamonds), it's kind of the best news that tunics exist. The extra length gives that cute derrière of yours just a little more coverage so those leggings can leave the house. With that extra volume and fabric on top, you want to keep it clean and simple on the bottom. Leggings or skinny jeans will help give balance to your look. Easy to layer with, tunics play well when paired with vests, cardigans (of all different lengths), scarves, and more. Can we also just mention how comfortable tunics are?! That loose fit is so forgiving.
Veronica slit back tunic – steal the style for just $14.95
While we love the classics as much as the next girl, we also love the chance to be bold and try something new. And what better opportunity than at affordable prices? Take advantage of today's style steals with code FALLTOPS!

I'm a work at home mom of five children. My passion is helping busy moms have happy, healthy homes and feel great about themselves.
Latest posts by Corinne Schmitt (see all)