My bff and I became close friends when we started working out together. I convinced her it was best to hit the gym pre-dawn, which was not a popular suggestion with my night owl, non-morning person, not-yet bestie. Still, for some reason she gave it a try and showed up at 5 am, silent, glaring, and wearing a shirt that had the word "NO" prominently portrayed on the front of the shirt.
She eventually grew to appreciate, if not love, getting our workouts done at the start of the day and I became a huge fan of her sassy t-shirts, and also a collector of them since once we were besties, I received quite a few from her as gifts. My favorites are "Silently Judging You" and "Sweat is Fat Crying." When you're wearing declarations like these to the gym, you have just put pressure on yourself to bring your A-game.
For Fashion Friday this week, I'm highlighting a whole collection of sassy workout tanks from Cents of Style. TODAY ONLY (1/22/16), they are 50% off (just $14.99 each) and shipping is free. Just use coupon code WORKITOUT at checkout.
These tanks have a great fit, a nice length, and a 60/40 cotton poly blend that is so soft and comfy! Each style has a design printed either on the front, or down the back.
Here's a sampling of the collection – and a visual of what they look like when they're on a person: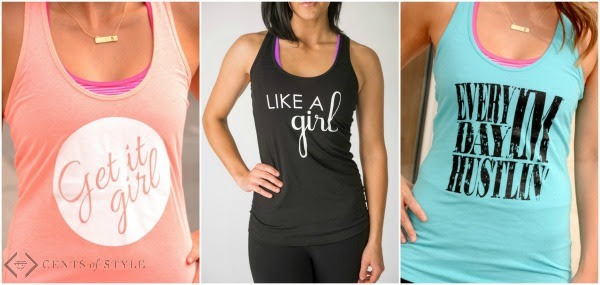 Plus, they've just added these six new designs:
Did I mention they are just as sassy on the back?
I personally envision myself like this since I'm partial to black (ninja-in-training), except without the makeup, jewelry, and with my hair in a ponytail – because that's how THIS girl works out (when she gets off her lazy behind and actually works out, that is).
What are you still doing reading this post? The sale and coupon code are only good today! Remember to enter WORKITOUT at checkout. Here's to a new year full of healthy workouts!
I'm a work at home mom of five children. My passion is helping busy moms have happy, healthy homes and feel great about themselves.
Latest posts by Corinne Schmitt (see all)